Jams World 2018 'Akala (Pink) Collection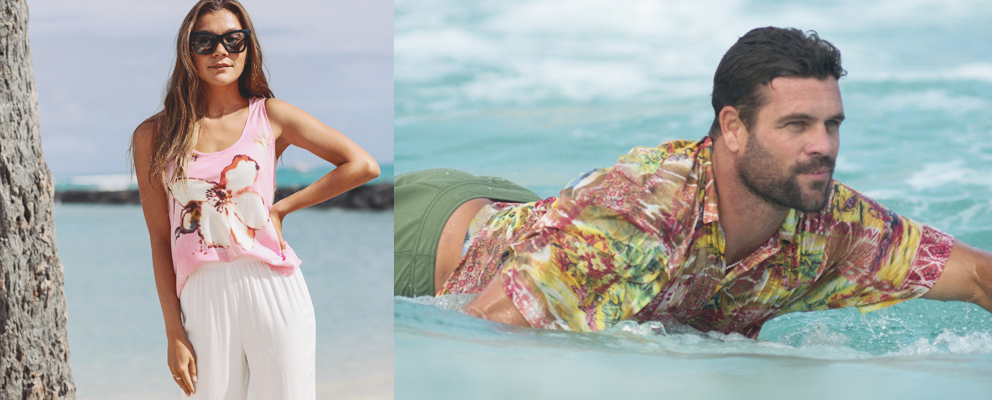 Jams World, the multi-generational, Made in Hawaii clothing company, is partnering with Hawai'i Pacific Health to participate in National Breast Cancer Awareness Month. 'Akala (Pink) Collection will be released September 17, 2018 and 20% of the proceeds will benefit the Hawai'i Pacific Health Cancer Center at Pali Momi Medical Center.
The 'Akala (Pink) Collection features four women's apparel styles, a heart pillow, mermaid dolls, candles and diffusers in limited edition Jams World "Sweet Pea," an original hand-painted piece of art. Warm hues, delicate brush strokes, and lush florals make this piece of art feminine and beautiful.
The Men's and Kids' apparel 'Akala (Pink) Collection, a scenic "Niihau" piece of art, features an enduring aspect of life on the Forbidden Island. Where there are no paved roads, no cars, or stores. The Sweet Pea Plant and island of Niihau both represent the strength and endurance of individuals fighting this deadly disease. "When looking for the best Art in our collections that would best represent this cause, we just couldn't decide on just one piece of Art.
Each apparel piece of this collection is a limited edition Jams World wearable art piece, Made in Hawaii." The 'Akala Collection can be found at Ko Olina Center and online at jamsworld.com.
Jams World
92-1047 Olani Street, #1-104/105, Kapolei, HI 96707
Call: (808) 678-9955
Website: jamsworld.com