Jams World Annouces 2018 Fukubukuro "Lucky Bags"
29 Dec 2017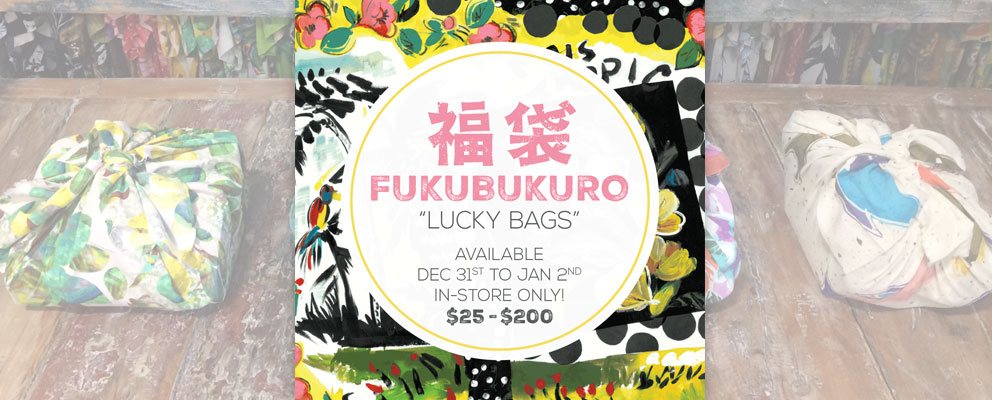 FOR IMMEDIATE RELEASE: JAMS WORLD ANNOUNCES 2018 FUKUBUKURO "LUCKY BAGS" IN-STORES DEC 31ST TO JAN 2ND
Honolulu, HI 12/28/2017- Jams World, the multi-generational, Hawaii based clothing company, will be participating in Fukubukuro this upcoming New Year's Day in 2018. Fukubukuro (福袋, "lucky bag", "mystery bag") is a Japanese New Year custom in which merchants make grab bags filled with unknown, random contents, and sell them for a substantial discount, usually 50% or more off the original price of the items contained within.
For the company's first time participating in Fukubukuro, Jams World will have a limited 25 lucky bags available per store. Each lucky bag will be wrapped furoshiki style, simply folding and tying cloth in a different ways, made from the company's artistically printed, high quality fabric with prices ranging from $25 to $200 per bag. Contents within the bags will remain a surprise until purchased, however, any bags including a sized item will have the size labeled on the outside of the bag. These Jams World Fukubukuro bags will go on sale December 31st to January 2nd at all four Jams World retail locations; Ko Olina Center, Ward Village Shops, The Shops at Mauna Lani, and Keauhou Shopping Center
About Jams World
The Jams World of today celebrates over 50 years of color, freedom, difference & love. Founder, Dave Rochlen, grew up surfing the California beaches. In 1962, Dave was transferred to Hawaii for work and "uncomfortable with the government industrial complex" left his job and opened a surfboard shop called Surf Line Hawaii on Kona Street in 1964. The company collects art from around the world, and each of their garments are a timeless piece of art. The art is screened in long lasting, stay true color on our exclusive 100% Spun Crushed Rayon. The fabric keeps you cool and just feels good. Their limited edition collections are cut and sewn in their Honolulu, Hawaii factory. Each print has coordinating hand-painted buttons created just for Jams World by a California artist. Jams World has remained a Hawaii based, multi-generational company dedicated to quality, individuality, and style which can be seen in each piece created. The company operates four retail stores located on Oahu and on the Big Island of Hawaii. Jams World products can also be found among authorized dealers throughout the United States and online at www.jamsworld.com.