A World Famous Bartender Shares His Favorite Honolulu Drinking Spots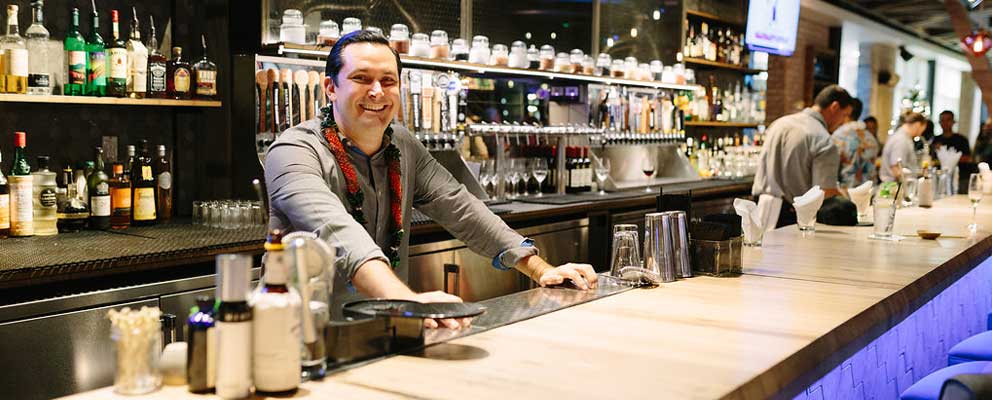 You know how to EAT THIS CITY. With top chefs as tour guides, you've learned how to scout out hot spots for breakfast and brunch, where to go for a delicious date night, and how to feast like a local liege in the cities you love. But where do you wash it all down? Do you know how to find the best brewpub? Who makes the meanest of bloody marys and the most sparkling of mimosas? What bars transport you?
You're about to find out. Welcome to DRINK THIS CITY!
The weather may be getting cooler, but, we're heating things up in beautiful Honolulu this week! Our guide to Honolulu's drinking hotspots is Jason Vendrell — sommelier and Beverage Director of Handcrafted Restaurants. He keeps busy overseeing Monkeypod Kitchen by Merriman on Maui and Oahu, Moku Kitchen on Oahu, and The Beach House on Kauai. He's the mastermind behind Monkeypod Kitchen's famed Lilikoi Foam Mai Tai, a cocktail so popular that the Maui location sold over 53,000 alone in 2015.
Intrigued? Lucky for us, he's ready to share the best places to snag a drink in one of our favorite Hawaiian cities!
There aren't many occasions to drink (temperature) hot cocktails in Hawaii, but if you want to define hot as spicy, I actually love one of the cocktails we serve at Monkeypod Kitchen called the Makawao Ave. We make our own ginger beer with a touch of cayenne pepper and mix that with rye whiskey, lemon, honey and angostura bitters.