Ice Cream Dreams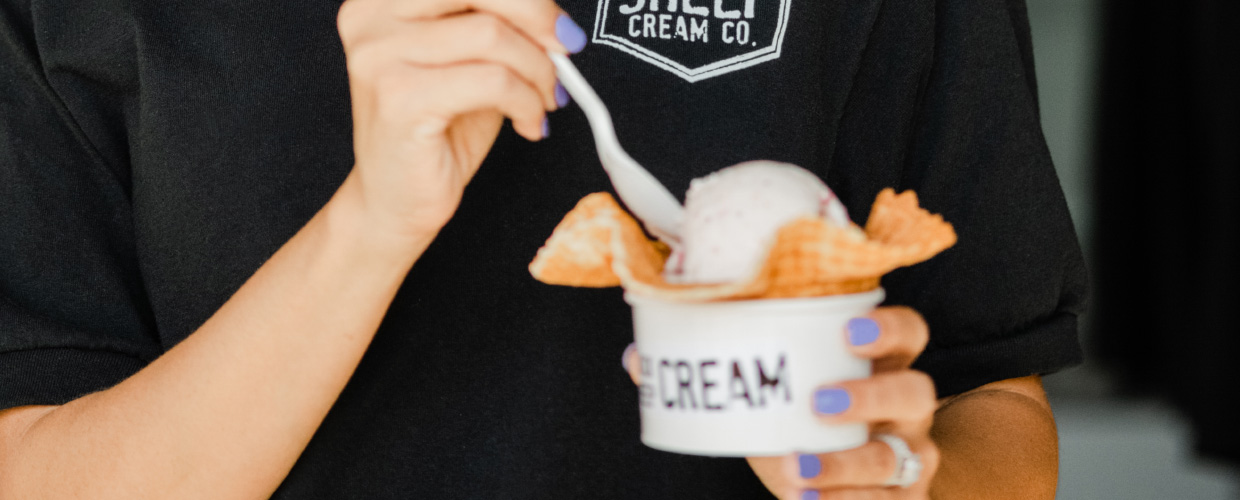 A dessert lover's daily delight leads to sweet success.
At Black Sheep Cream Co. in Ko Olina Center, owner Tasi Reid deftly spoons ice cream into fresh, house-made waffle cones. Reid is an expert hand. "Growing up, we had ice cream every night as a family," she says. "The question always was, 'Who's scooping?'"
Reid, a self-proclaimed ice cream fanatic, knew from a young age that she wanted to be a business owner. But parlaying her passion into a profession meant becoming a quick study in all things ice cream making. Armed with a small Cusinart ice cream maker, Reid spent months in her kitchen perfecting the craft. "Ice cream is basically three ingredients—cream, milk, and sugar—but there's actually a lot of science involved," she says. "You have to figure out that right balance of fat and sugar." Reid laughs, adding that "there was no holding back on fat or sugar."
For Reid, the best part of her job is the ability to create new ice cream flavors and the equally entertaining task of naming them. Crowd favorites include "It's Gonna Be a Rocky Road," "Honey Dew You Boo Boo," and "Go Shawty, It's Your Birthday." Not long ago, she debuted "I like Pig Butts and I Cannot Lie," a maple ice cream with bacon pieces. The unconventional offering initially raised eyebrows, but Reid remained confident the flavors would translate well. "It's that perfect balance of salty and sweet," Reid says. The flavor went on to be a surprise hit.
Once Reid formulated her ideal ice cream base, the real experimentation—and fun—began. "It was exciting to develop our flavors," she says. During the business's early R&D days, Reid would invite friends and family to test out her flavor concoctions, asking, "Do we have something here?" Soon, a rotating menu of 15 ice cream flavors was finalized. (A sizable roster but, as Reid notes, "Everyone is used to 31.") She also settled on a name, Black Sheep Cream Co., as a cheeky nod to standing apart from other, more conventional ice cream shops.
Read more, Visit: koolina.com


Black Sheep Cream Co.
92-1049 Olani Street #3-101C,
Kapolei, HI 96707
Get Directions