Coming Soon: Artist Eddy Y's Designs in Your Home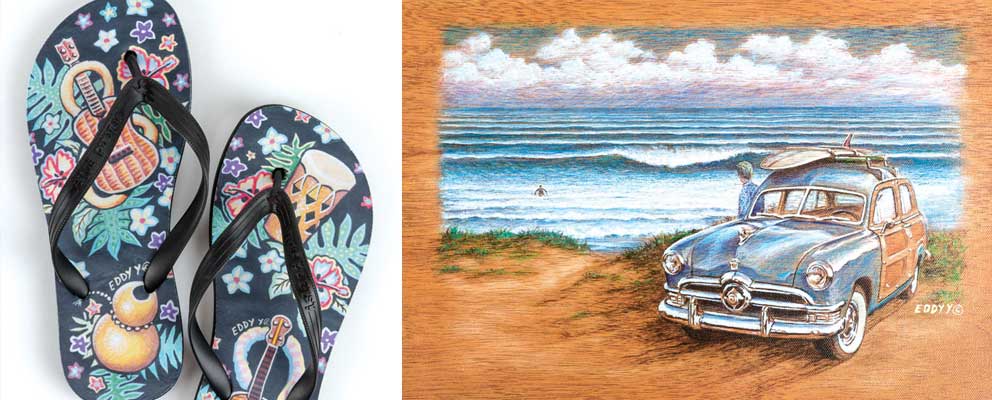 Longtime Hawai'i artist Eddy Y has designed surf scenes and vintage automobiles on clothing for more than 30 years. Now, he's expanding to include casual home furnishings.
You likely know his artwork: vintage scenes with classic '50s-era vans and hatchbacks parked on the beach. Palm trees in the front, Diamond Head in the back. In the distance, surfers are paddling out on the swells or riding waves back to shore. And tucked away near the bottom corner of each painting, a small signature of capital letters: EDDY Y.
"The Y stands for Yamamoto but 'Eddy Yamamoto' sounds generic. When I started as an artist, I wanted my name to be hip so I shortened it to just Eddy Y," says Yamamoto. "I love the American way of life. I love the music, the cars ...so that's what I portray."
Today, Eddy Y's art is sold exclusively through the Tabora Gallery in Hale'iwa, but soon his work will appear on surfaces beyond paper or clothing. He's begun collaborating with Pictures Plus, The Art Source and Island Sole to place his images on items ranging from clocks to water flasks to postcards, and prints on canvas, wood and metal. "Having dealt with hundreds of artists over the past 30 years, there is no single artist with the combined talent and experience as Eddy Y," says Kent Untermann, founder of Pictures Plus. "His rich long history of designing art for apparel, products and fine art is a rare combination."
When Yamamoto, who is originally from Tokyo but whose family moved to Hawai'i when he was 14, first began as a student at UH Mānoa studying art in the early 1970s, he painted signs and took on any commissions he could. He created the artwork for Kalapana's second album, which attracted the attention of promoter Tom Moffatt, who asked Yamamoto to design something for a Kalapana and Cecilio & Kapono concert at Aloha Stadium in 1976.